P R O P O S A L
VIRTUAL OFFICE AND NEW COMPANY
WITH ALYTUS BASC, IN LITHUANIA
Hello dear businessmen,
Alytus Business Advisory Center propose "Business Start Up" services  in Alytus (Lithuania)  for You and Your team with starting of new company.
 WE WILL HELP TO REGISTER ALL TYPES OF COMPANIES – public limited liability (SC), private limited liability (JSC), individual companies (IC), partnerships (SP), public institutions, associations, societies, endowment and relief funds, religious communities and societies:
Temporary inclusion of the name of establishing juridical person into the register of Juridical persons;

Arrangement of companies establishment contracts/acts, articles/provisions, decisions of incorporators and reports;

Opening bank accounts of Juridical persons;

Filling the necessary forms of the register of Juridical persons;

Choosing most appropriate time to visit Notary office;

Producing and withdrawing documents from the register of Juridical persons;

Making of stamp;

Inclusion of Juridical persons data into register of tax payers;

Taking actions to ensure successful registration of juridical persons and realization of activity.
WE PROVIDE:
Company Registration Address (Legal adress). We offer for you Virtual Office – LEGAL COMPANY (HOME) ADDRESS for company registrationin Alytus (S. Darius and S. Girėno. 2, Alytus, LT-62137). Package price from –

144,00

Euro/ year.
Bookkeeping services. Start price min. from 150,00 Euro/month.
Business Support and consultations services for Financing from EU and others funds. Start from 18,00 Euro/hour / 50,00 Euro/ hour.
Project preparation services. Package price from 500,00 Eur;

Business Meetings and Conference services 

(with representatives of agencies who can help to find the workers, potential recruitment programs)

Start price  from 21,00 Euro/ hour.
 "BUSINESS START UP" in ALYTUS with ALYTUS BASC, in LITHUANIA
Step

Period in Days

Charge in EUR

"Start Up" Assistant. Our consultant will escort you to the institutions needed for establishing your own company, for getting the refund on establishment expenses and help you all the day.

1-3

50,00 – 150,00

Company incorporation (the statutes, etc.). The package preparation in two languages (national and foreign)

1-2

250,00 –




500,00

Open a bank account (with the minimum capital 2500,00 Eur) and get a bank certificate proving the availability of the funds; pay the registration fee and obtain the document evidencing the payment

1-2

No charge for EU /
100,00 for others
Notarize the agreement/memorandum of incorporation and by laws; notarise the application for the registration of the private limited liability company.

2

Up to




100,00

Register with  the Companies Register, including registration of Legal Title of company; the State Tax Inspectorate (the Lithuanian Revenue Authority) for corporate tax, VAT, and the State Social Insurance Fund Board (SODRA)
SP – Small Partnership company; JSC – Join Stock Company.

3

(SP) 51,61 €
(JSC) 57,34 €

Complete VAT (Value Added Tax) registration

3-5

no charge

Inform the State Labour Inspectorate of the establishment of the company by letter or phone

1

no charge

Open a settlement bank account (to handle normal commercial transactions)

1

no charge

Obtain the official seal of the company

2

25,00 –

30,00
VIRTUAL OFFICE – excellent solution for your business start, because:
-You will be given a place for business meetings with conference equipment, office equipment, copying, scanning, printing, internet, fax, email. Mail, administrator services.
-Your company can be registered or simply reside in the V-Office, and your correspondence, streaming and documentation will be administered by the V-Office Administrator. See below: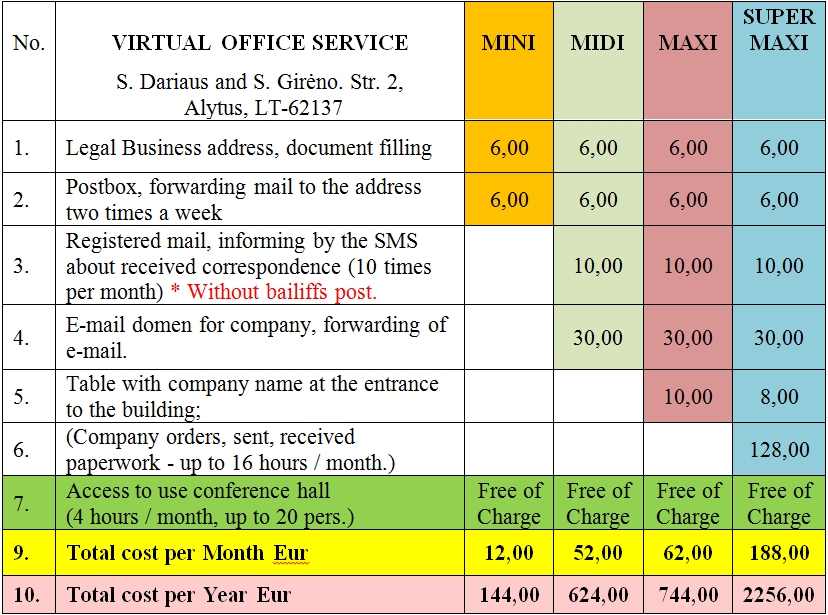 We kindly invite You to use our business services now and  in the future.
S. Dariaus and S.Girėno str. No 2, (II floor), Alytus, www.avkc.lt.
Mob. +370 652 81500, Tel.+370 315 74357.
Sincerely,
Director of Alytus Business Advisory  Service Center 
Algimanta Ščiglinskienė  
email: direktore@avkc.lt